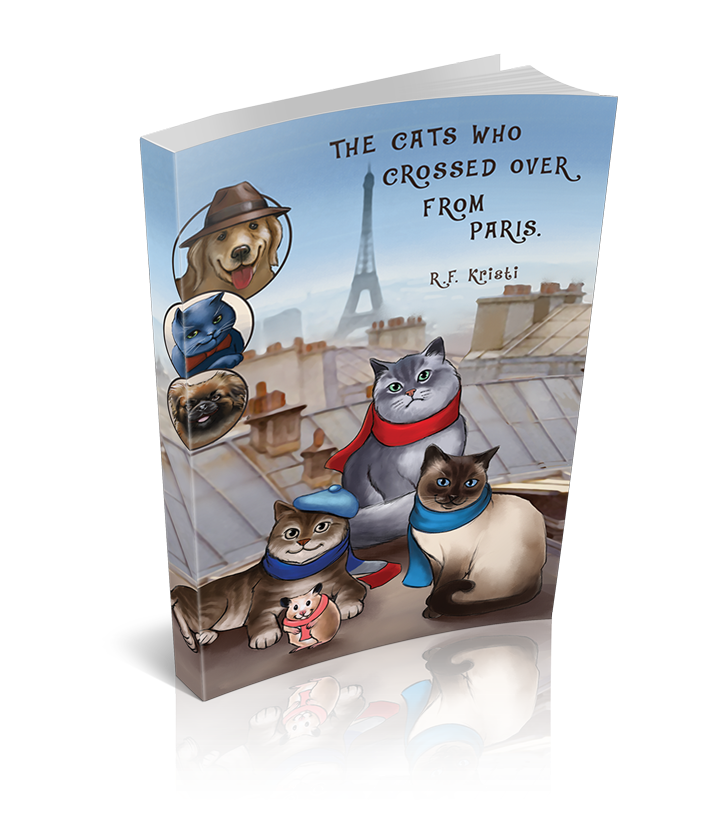 Chapter 1 "Are we moving?"
Major changes in life occur when you least expect them.
It all started one sunny and glorious morning in our chic but compact apartment in the 7th district of Paris. The sky was blue and our comfortable apartment, which overlooks the river Seine, was basking in the white clouds. This first day in the month of June was bright and twinkling, and in thousands of apartments across Paris the warmth of the June sun refused to budge, making the temperature as hot as a fully heated baking oven.
The fur balls in our apartment were in their seventh heaven with pleasure at the warmth of the sun. Quel Bonheur!
I was, as usual, sitting on the back of the sofa of Missy with one paw delicately poised and hanging down to her shoulder while she served croissants, baguettes, cheese and tea to our visitors. Missy had laid out a splendid spread for our guests on the small round dining table; an enticing brunch.
The scenario never changed whenever we had guests. Missy was her usual chatty and hospitable self while I took a backseat, beautifully poised with the posture I maintain for the customary compliments on my looks. My brother, Fromage, was eagerly eyeing the breakfast tray full of goodies and wondering if he would get a morsel of cheese from Missy. Cara, my sister, was lying on her back at Missy's feet, gently touching her with her paws trying to get the attention that usually comes my way!
Oh well! All was as it normally is in the Missy and puss household!
My ears pricked up as Missy started telling the guests, her good friends Genevieve, Jacques and a strange man I had never met before that she addressed as Monsieur Chevalier, that "No, we will not be taking all the furniture but a few nice pieces that I have collected in Paris. We will be moving to a furnished cottage."
My ears twitched in the direction of Missy as I moved from an elegant lounging position to sitting up with wide-eyed attention. I sat up and listened with interest, pretending to be absorbed by the flowers on the ivory-gray Persian rug on the polished parquet floors while they continued their discussion. By putting two and two together, I managed to get the whole story more or less correct. 'Quoi' we were moving? What was going on? Alarm bells started ringing in my head!
I was all agog at finding out what Terrance was up to now. Since our arrival in London from Paris in June of this year, we had already been involved in an exciting adventure concerning our Pekinese friend Polo whose beloved mistress Señora had her valuable diamond necklace.
It was only six months ago that we arrived from France, crossing the channel to England to set up our French cheese shop and restaurant.
The cheese shop is situated in the heart of Kensington modeled on our successful cheese shop in Paris. So far the business was going well. It was named after Fromage, who was the shop's mascot.
Fromage is a cheese devotee. He considers himself a cheese expert in every sense. He strongly believes that our cheese business is a triumph mainly because of him. True or not, Cara and I are grateful that our diminutive brother takes so much pride in assisting Missy with our cheese enterprise.
The weather had changed from the warm summer days, and we were spending the first days of December in our new cottage. The weather had quickly turned cold, but our little cottage was nice and heated the way we kitty cats like it.
Suddenly Missy's Skype started ringing a melodious tune and Aunt Florence's smiling face appeared on the screen when Missy responded to the call. I didn't move but my ears twitched to attention as the conversation revolved about plans for celebrating Christmas. She was coming to London for Christmas. Wonderful news! She spoiled me to bits and gave me lots of attention.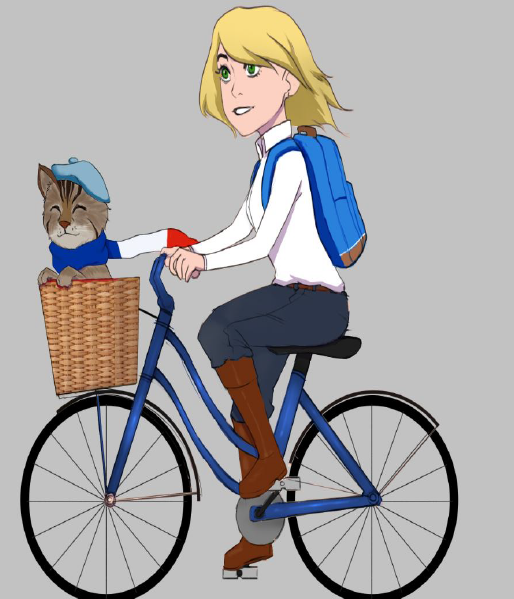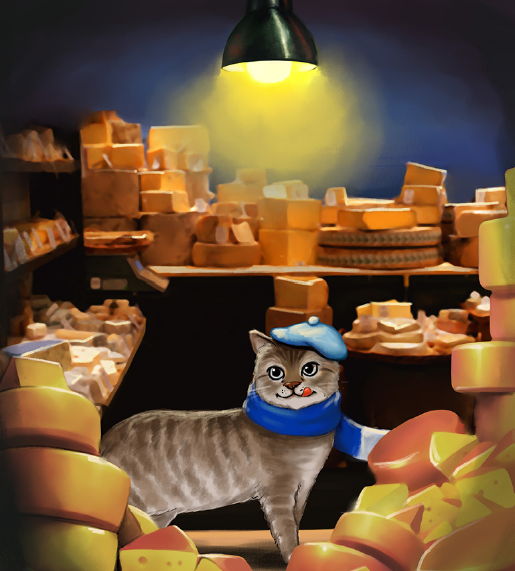 His cheese shop….? Honestly
, I thought. Missy, Genevieve and Jacques own a small but fabulous little cheese shop on Avenue de la Bourdonnais in the 7th district of Paris, not far from our apartment. They bought the shop from Monsieur Lepayre when he retired.
It is true, Fromage was actually born in the cellar of that shop before the owner, Monsieur Lepayre, sold it and moved to the countryside with Fromage's mum and dad. It is also true that Fromage visits his old home often with Missy, perched on the cat carriage of her bicycle. He sometimes spends the whole day in the shop where he has his paraphernalia set up in the basement, his birthplace. He wonders around the shop happily, examining the new cheeses and inhaling the aromas of the different types of French cheese. He also enjoys getting titbits from Genevieve, who could never resist his longing, large brown eyes.
Monsieur Lepayre's cheese shop was reputed to be one of the finest in Paris. Monsieur Lepayre had available a wide and varied selection of French cheeses. Giving recommendations on the type of cheese to have with lunch or dinner was his specialty and Jacques, when he became co-owner of the shop, had every intention of carrying on this tradition. Customers would spend their time selecting their cheese and there was never any hurry once they entered the shop. Fromage would listen and learn from Monsieur Lepayre, as had his dad and mom. The scent of cheese and the atmosphere added to the reputation of the shop that Fromage considered his own enterprise.
Cara looked bewildered. "Mummy…. I mean Missy," said Cara with an apologetic look at me. "Missy is coming too, right? You know I cannot leave her behind, Inca. I never could, though you have explained to me several times that as a Siamese Seal Point, with my ancestry from the royal palaces of Thailand, I should behave more like a noble cat.'
I sighed; one would think that I would leave Missy behind for a minute. The problem with Cara is that she came home to us, meaning Missy and I, when she was just two months old.
Read the rest of Inca's Paris Adventure