I have a very special book and author for you to meet today — R.F. Kristi and her book, THE CAT DETECTIVES IN RUSSIA: THE CASE OF THE MISSING FABERGÉ EGG. When I tell you that this book is adorable and very creative, I mean it. Brilliantly written and with beautiful illustrations by Maaz Farzaan, this book is sure to captivate young readers.
I will warn you though, this is neither a short book or a quick read. In fact, the book is intended to be read over a series of days. This week, I am babysitting my two of my five-year-old grandchildren and one three year-old so the parents could go on a small vacation. I found this perfect to read to my they right before bed, a little at a time.
The only problem with this, is they are so enthralled with the adventurous plot and the characters they never want me to stop. My saving grace is that I tell them that we will read again tomorrow.
Now let me introduce you to R.F. Kristi and her book, THE CAT DETECTIVES IN RUSSIA: THE CASE OF THE MISSING FABERGÉ EGG.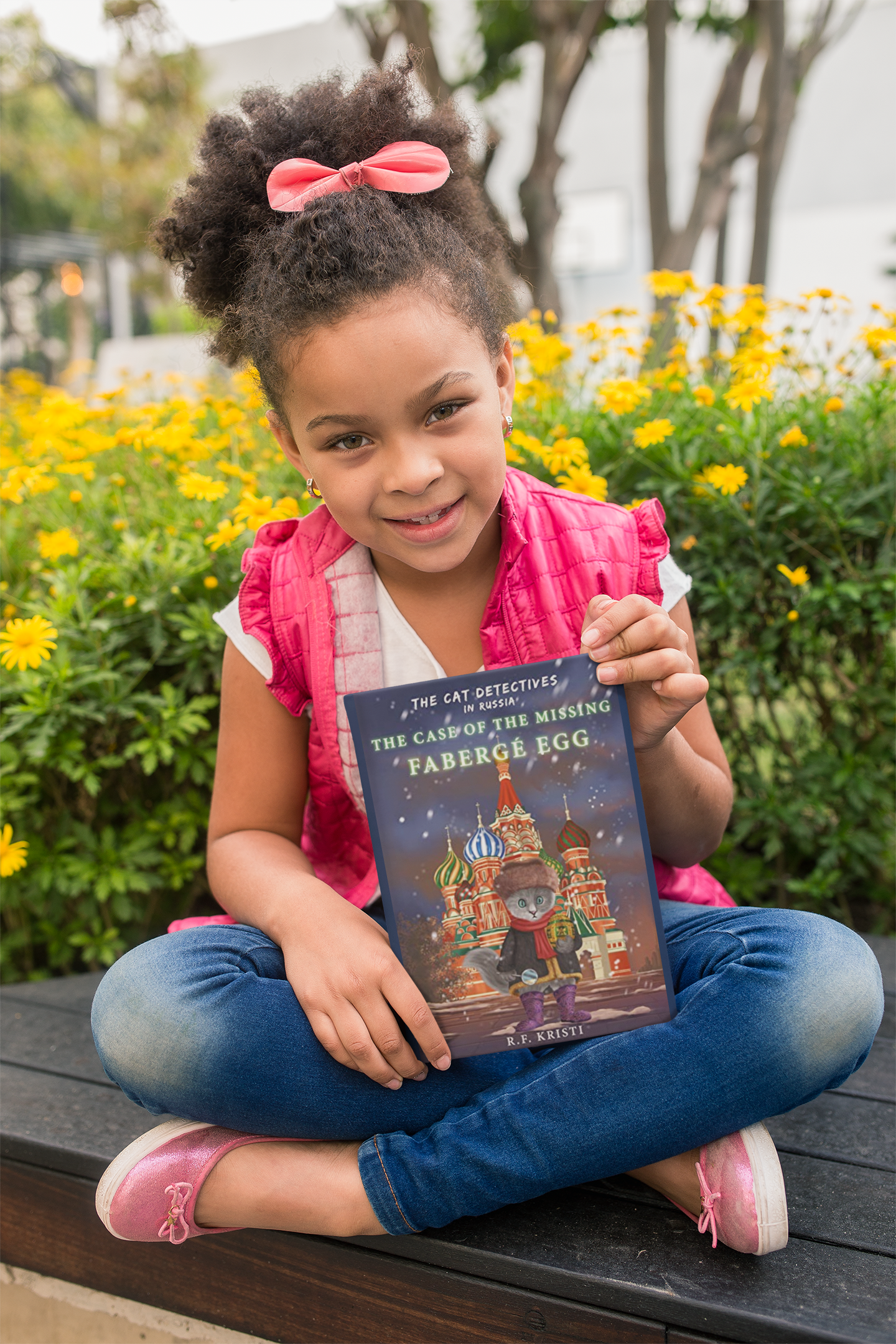 ABOUT THE BOOK
An amazing adventure in Russia. Can one cat detective find the missing Fabergé Egg? Inca the Siberian Kitty can't wait to visit her homeland, Russia. The detective kitty learns that a local museum needs her crime-solving skills to track down a valuable stolen Fabergé Egg. With her trusty diary in tow, Inca leaps whisker-first down a trail of clues that leads into the famous Peterhof Palace located in Peterhof close to Saint Petersburg, Russia. She learns about the country's rich history and just how important it is to restore the famous Fabergé Egg to its rightful place in the Fabergé Museum. With a little help from her furry family and friends, particularly the marvelous little robot, Jibo, Inca can feel she's close to getting her claws on the valuable Egg… but it'll take teamwork to save a priceless piece of history.
Tell your readers a little about yourself. Where you grew up, where you live now, where you went to school etc. Let them get to know the personal you.
Kristi grew up in Sri Lanka, a small gem of an island in South Asia, located in the Indian Ocean. She graduated from universities in the United States of America and the United Kingdom. She currently lives between Paris, France, Colombo, Sri Lanka, and California, USA.
Her career as an international civil servant started at UNICEF headquarters in New York. As a UNICEF staff member, she worked and lived in New York-USA, Hanoi-Vietnam, Monrovia-Liberia. She has traveled to a host of other countries.
Children's issues have always been at the forefront of her mind. She is passionate about protecting and promoting the well-being of animals. Her love of animals and educating young minds to protect and respect animals was a natural milieu when she started writing children's books.
What inspired you to write this book?
The series is based on Kristi's beloved pet cats, Inca and Cara. Kristi works with destitute and abandoned dogs and cats in sunny Sri Lanka. She wanted to inspire children to love and respect animals. A former UNICEF professional, she wishes to encourage reading amongst children. What better way to do so than by encouraging children to read about some fun animal characters who are detectives?
She says, "The intelligence of cats has always fascinated me. Especially Inca, a Siberian kitten I had the good fortune to acquire while in Paris. Cats are independent and intelligent. Watching Inca and Cara, a blue-eyed Siamese I had brought in as a companion for Inca made me imagine the cat detective series. Not to neglect dogs, there are some smart and brave detective dogs also participating in the series."
Where did you get the inspiration for your book's cover?
Kristi's stories are written from following her extensive travels. For example, the 'Cats in Russia: The Case of the Missing Fabergé Egg" was written after a cultural visit to Moscow and Saint Petersburg.
Who has been the biggest influence on you personally and as a writer?
Kristi is an avid reader. One could say that all authors inspired her to read and also write. One author, in particular, stands out: She enjoyed very much the books of the English author Gerald Durrell, a popular naturalist, conservationist, television host, and author, credited with redefining the modern zoo.
What were your struggles or obstacles you had to overcome to get this book written?
Kristi is frank on this subject. She says, "to be honest, there were no struggles or obstacles to writing this particular book. Following my first visit to Russia, I definitely wanted young readers to enrich themselves by understanding more about Russia and its rich cultural heritage."
Tell your readers about your book.
THE CAT DETECTIVES IN RUSSIA: THE CASE OF THE MISSING FABERGÉ EGG is the 9th standalone children's book in the Diary of a Snoopy Cat series, which is purrfect for kids ages 5-12 and also animal lovers. For those folks who have not traveled or visited Russia, it would prove a pleasant mental walk-about of this fascinating country. If you and your children like new cultural experiences, animal detectives, and tales of teamwork, then you'll love R.F. Kristi's globetrotting adventures.
Who is your target audience, and why?
Kristi believes that all children would enjoy reading this particular book in the Inca Cat Detective series. So would their parents. She says, "Animal lovers, particularly cats, and dog lovers would also surely enjoy the antics of these furry animals. Also, the reader will be introduced to a magnificent little robot named Jibo.
If you were going to give one reason for anyone looking at your book to read, why should they buy it?
Kristi believes that readers will discover Russia through the eyes of a furry detective team and have a laugh while learning about its culture.
What do you consider your greatest success in life?
Kristi's considers her career with the United Nations Specialized Agencies, particularly in UNICEF, where she was able to contribute to the welfare and rights of children a major success in her life.
Everyone has life lessons to learn, tell your readers one or two of yours and how they make you the person you are today.
Having grown up with and loved animal companions all her life, Kristi realized that animals do play a major role in the lives of many children. Several scientific reviews have remarked that pets are linked to the psychological well-being of children. Kristi attempts to promote the concept of teaching children to love and respect animals as growing up with pets is linked to higher self-esteem, cognitive development, and social skills. In her 2008 book The Powerful Bond Between People and Pets, psychologist Elizabeth Anderson wrote, "Nothing less than alchemy is involved when animals and children get together, and the resulting magic has healing properties that work well."
What one unique thing sets you apart from other writers in your genre?
Kristi writes for pleasure. She also writes to contribute proceeds from the sale of her books to animal rescue efforts. She has established a refuge in Sri Lanka where sick and abandoned street dogs and cats are rescued and natured.
Tell your readers anything else you want to share.
Kristi says, "I have always enjoyed reading. Even as a child, my favorite pastime was reading. In addition, animals have always been a part of my life. I can't remember a time when I didn't own a cat or a dog. While working for UNESCO Paris, I had the urge to write for children, mainly to encourage them to appreciate animals and to consider animals as living breathing beings with thoughts and feelings. I also learned about the benefits reaped by children growing up with animals. So, what better way to encourage children to love and appreciate animals than by reading adventure stories about animals."